Move with CENTRAL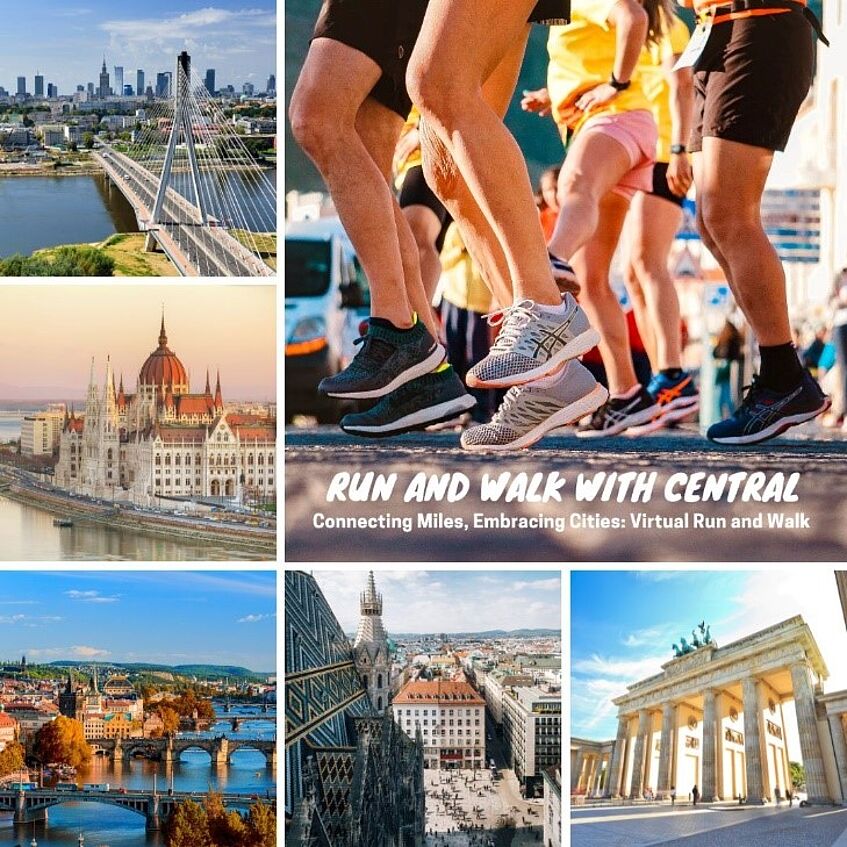 The fall of 2023 is going to be all about health for CENTRAL. Mark your calendars because on the 1st of October 2023 we will start with the largest collaborative project for CENTRAL to this date. A 2558 km distance will be covered by our friends of CENTRAL and anyone who is interested in challenging themselves or would like to just use the opportunity to get moving. Join us in a virtual walk or run. The distances will be added up until we reach the goal of finishing a round trip to all CENTRAL University-Cities. We will dedicate this event not only to the promotion of physical but also mental health!
Participants will be able to use the app STRAVA. The online event RUN and WALK with CENTRAL will be created via this app. Participants can start to record their preparation runs starting on 1st October. The main event will be happening on 10th October. Each kilometer will be counted. We will acknowledge the best runners, the best walkers as well as the most active institution.
Join us!
Try mindful runs or walks. Challenge yourself but focus on listening to what your body needs. Also check in with your physician if you have any concerns or predispositions.
Get moving and let us know how you are doing! Let's share tips on how to stay motivated.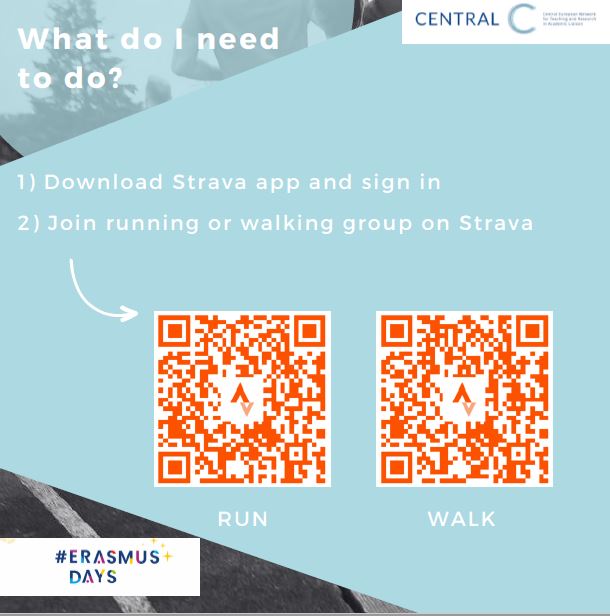 Sports UNITED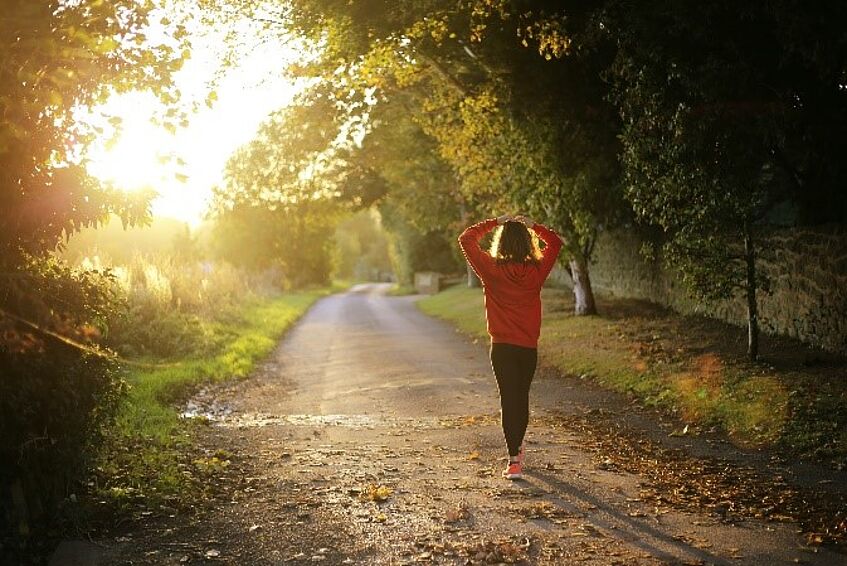 Sports UNITED
10th of October 2023 (Prague)
For those, who would like to dive deeper into the topics of health and fitness and hear from experts on different aspects, participate in a large scale the Sports Event on the 10th of October. Workshops, lectures, and panel discussions will be organized in Prague at Charles University and there will be plenty of opportunities to listen to the speakers and join the discussion. Esport matches will be organized to enhance the participation of students.
The concept of the event was created to provide a platform for a community focused on strengthening peaceful, friendly, and supportive relationships between people, institutions, and countries. The concept is based on the understanding that solidarity, inclusion, diversity, and equity together with sustainability are the values, which must be always respected and supported.


Get healthy with CENTRAL - Panel Discussion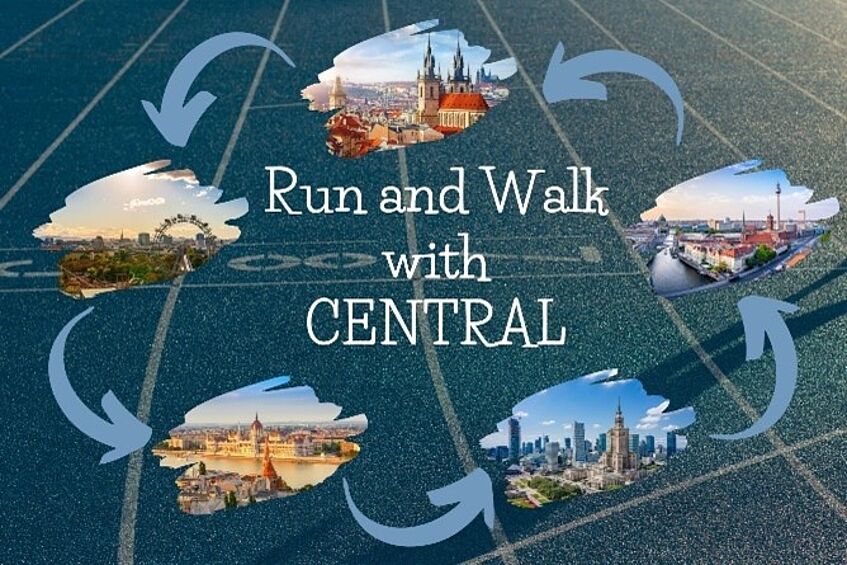 Get healthy with CENTRAL - Panel Discussion
10th of October 2023 - 10-11:30 am (Prague/Online)
Faculty of Physical Education and Sports in the Creative Hub
Together With the Faculty of physical Education and Sports at Charles University CENTRAL is hosting a Panel Discussion with experts from each University, speaking on different topics concerning health.
The topics will include, but are not limited to:
nutrition and diet
sport/movement/physical activities
mental health
social relationships
motivation and beyond-limits experience
More details and the experts joining us for the event will be announced shortly!
The event will be held at Charles University in person and streamed online.
Get your own limited CENTRAL T-Shirt
Get your own limited CENTRAL T-Shirt
Anyone wanting to be featured on the website can send in a photo of them on their run or walk and the first 5 participants will receive a "run and walk with CENTRAL Sports-T-Shirt". Just send your photo to central-network@univie.ac.at. You can collect the T-shirt, or we can send it to you at your preferred address.
5/5 left
The top 3 runners and the top 3 walkers, who added up the most kilometers, will also receive a CENTRAL running shirt. Send us a photo wearing it afterwards and we will feature you on the CENTRAL Website.
3/3 left (running)
3/3 left (walking)
Partners involved in the project RUN and WALK with CENTRAL
The project partners are the universities that are joined in the Central European Network for Teaching and Research in Academic Liaison (CENTRAL):

The project is prepared by the following members CENTRAL Executive Committee:
Jaromír Soukup, Charles University, Prague, Czechia
Katalin Igaz-Öhler, Eötvös Loránd University, Budapest, Hungary
Stefan Karsch, Humboldt University, Berlin, Germany,
Franz Michalke, Magdalena Lindorfer, University of Vienna, Austria
Klementyna Kielak, University of Warsaw, Poland
The project will be prepared and implemented with the help of organizers led by:
Lenka Henebergová, Faculty of Physical Education and Sport, Charles University, Prague, Czechia
Aleš Vlk, Faculty of Physical Education and Sport, Charles University, Prague, Czechia
Natálie Wolfová, Faculty of Physical Education and Sport, Charles University, Prague, Czechia